Chernobyl. Between the Past and the Future
S H E L T E R
Project of Strontium-90 Art Group
_________________________________________________________________________________
Dear Friends!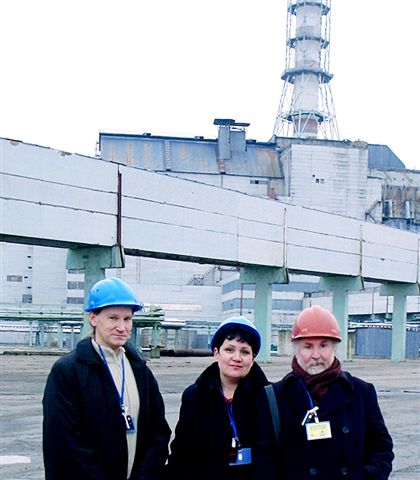 The group of independent artists "Strontium - 90" presents their exhibit "Shelter" realized within the framework of the project "Chernobyl: between the past and the future". The project is devoted to the 20-th anniversary of Chernobyl disaster. The artists declared the project start date on December, 1, 2005, when they visited Chernobyl Nuclear Power Plant and honored the memory of fallen Chernobyl heroes at the victims' memorial.
The main purpose of the project is, by means of art, to attract attention of international community to necessity of solution of Chernobyl problems, including Chernobyl station and Shelter facility. The artists of the group "Strontium - 90" are convinced that Chernobyl accident is a global scale disaster, and its overcoming is still in need of common efforts of humanity.
Speaking about the Shelter the artists mean not only sarcophagus, covering the destroyed Chernobyl unit, but also responsibility of mankind for preservation of the Earth that is our common Shelter, and universal and only reliable Lee for all living things.