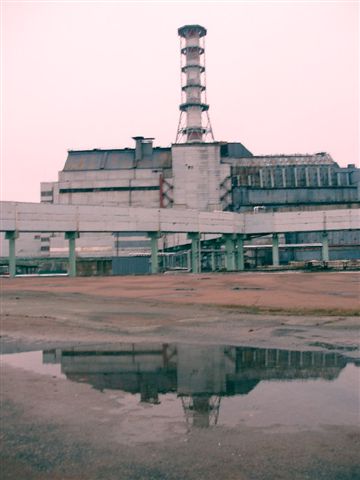 S H E L T E R
Project of Strontium-90 Art Group
_________________________________________________________________________________
M A N I F E S T O
of Independent Artists Group Strontium-90
"And I saw a new heaven and a new earth..."
Rev. 21: 1
Our nuclear age has brought new awareness to both individuals and whole generations. The disaster at Chernobyl atomic energy station once again set aflame before humanity those problems with which it must contend.
Chernobyl had a direct impact on us, thrusting us into the chain of events as witnesses of what we are becoming.
We know that here, in our presently unfolding time, we are realizing objectives, definite and indefinite, of evolution and of self-development.
One definite objective is to aid humanity in the search for methodical, harmonic forms of development, aimed at subduing our crude fixation on notions of ourselves and the world around us, given the knowledge that humanity's fatal error was the incarnation of notions about itself. Any human fixed on such notions cannot see truth in the world around him - not the all - encompassing spaces of eternity, not the harmony of cosmic Oneness. He has sentenced himself to measures of darkness and death, imprisoning his immortal soul deep in a dungeon; but any dungeon must inevitably be destroyed.
We believe that we must learn to see - not with the eyes, not with the mind, but with the heart as a mirror of the soul - to see not selfishly, but to raise toward all the eyes of Freedom, Spirit, Life and Truth.
Our works are echoes, mirages, phenomena, icons, and events, progressing in stages toward the mysterious power of divine intention; they are born where the human spirit meets the Great Silence and where it touches its eternal core.
We see superconductivity as a peculiarly human quality; through its development in ties with spirit and energy we realize art without time, art that becomes an integral part of infinity, of the essence of "I".
The ever - revealing Oneness of cosmic energy and knowledge presents us with new goals and opens to us vast, breathtaking horizons, while Spirituality emerges into a new real light and spiritual achievements of humanity gain concrete meaning in the search for man's and mankind's true path.
We now know that we all have the chance, uniting our efforts to break through by way of creativity and knowledge to new worlds existing within us, beside us, parallel to ourselves . . .
We must direct spiritual disciplines of prayer and meditation, as well as fine sensations and energies, toward new creation in the name of Freedom and Spirit.
Our own greed, atrophy, and gross delusion, manifested in our very selves, have driven us to a dead end, to self-destruction, yet simultaneously have summoned in us an unquenchable thirst for self - improvement.
We open our eyes; we open our ears; we "open" a world where our "I" is something complete new-mobile, luminous, ineffable, endless...
We, our flesh, our blood, our given form, are not circumstantial, but Universal - immense, mysterious, exciting, inconceivable. Our spiritual essence reveals this to us.
Our art is but a subtle thread...
April, 26. 1990
Kiev.